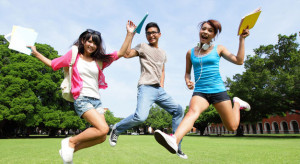 Our Mission
Our mission is to make the process of obtaining a graduate degree in the United States more transparent to underprivileged students. In a nutshell we want to educate them about our graduate education system.
Why focus on students in the developing world?
We believe education is a key factor to improving the quality of life in the developing world, both on a individual and societal basis. We came to this belief from our personal experiences and from surveying dozens of students from many parts of the world. The developing world is a goldmine of raw talent, full of self-starters motivated to improve their countries and societies. Team InGear encourages these students to pursue advanced degrees in the United States in the hopes that armed with more knowledge and skills, they will be better able to invest in and improve their home countries down the line. We see our InGear mentees as future leaders with a vested interest in giving back to their communities.
Why not encourage them to get advanced degrees in their home countries?
While we know there are quality universities in developing countries, the fact remains that an advanced degree from a globally competitive university will give our mentees/students a major edge in their professional development.
What does Team InGear do to help?
When a student signs up on the Team InGear website they instantly become part of a community that provides a sense of connection and encouragement (two major factors that affect a student's likelyhood to pursue and advanced degree). We connect with team members throughout several platforms. By signing up to our website and newsletter students will get a road map with step by step instructions to get admitted into a graduate program and how to survive the first week on campus. They have access to our podcast series (Ingear Podcast) which features scholars and professionals speaking candidly about their experiences (good and bad) and providing tips for success. Team members receive a free e-book, "PhD in the USA," which provides a comprehensive review of the entire process of receiving an advanced degree in the United States. (This book is also available for sale on Amazon for a symbolic fee).
What's so complicated about the US system?
A lot, in fact! The US university system functions very differently than higher education systems in the developing world. By breaking down how our system functions, from grants to developing mentors and a professional network, we help students understand what they need to do to prepare for and succeed in a US university program.
How do you reach students?
Social media is huge in the developing world (just like it is here!). We use targeted ads in social media to reach the potential graduate students. This marketing campaign is executed in schools within the United States and abroad.
How do I help?
Currently our goal is to effectively place social media ads and follow up tracking down the results. You are invited to help, with your donation and or your expertise. If you are an immigrant or have a particular interest in seeing more young people from a certain group or geography getting graduate degrees, one way to help is by sponsoring social media advertisement. Get involved and get InGear. We are exempt from federal income tax under Internal Revenue Code Section 501 (c) (3).  Click here to contribute.